Tuesday, July 24, 2007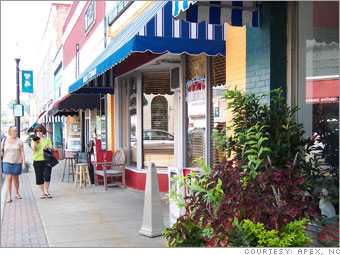 Apex ranked
14th
on

Money Magazine's

top 100 Best Places to Live!
This list '
focused on smaller places that offered the best combination of economic opportunity, good schools, safe streets, things to do and a real sense of community.'

Sounds like Apex to me. I love this town.

Also, for my Holly Springs friends...you all were 22nd. For my Charlotte friends, your neighbor Mooresville (aka 'Race City, USA') came in at number 65.

Posted by

Unknown
at 9:46 PM
3 comments:


Sunday, July 22, 2007
One month ago I wrote that I would post soon. Sorry for the delay. I did not think anyone really read this anymore - but apparently some of you are still reading. I think I am really back this time. But, since I have proven myself to be a terrible blogger I should not make any promises! There are several things I have been wanting to post, but I will just start with an update for those of you who have told me you do not know what is going on in my life since I never post on my blog. Here you go -

This summer has been both relaxing and busy. I finished up the year working at CCS in May and went to the New Attitude conference Memorial Day weekend (which was great!). I came back and spend most of June doing nothing, haha. Well, just doing things I had been too busy to do during school. I also had a couple of dance recitals for my students. The first week of July my family went on vacation to Ocean Isle Beach - I will post some pictures of that (it was exciting to see Ava's first experience of the beach!).

Since then I have been busy working. Being once again 'in between jobs', I registered with at temp agency. Two weeks ago I started at PharmaLinkFHI. They are one of the many pharmaceuticals related companies in RTP and monitor clinical trials. I have mostly been doing filing and archiving their different studies; they are very specific about this since they get audited by the FDA. Though the work is slightly monotonous, I am enjoying the job. There are several other girls my age working there and I have enjoyed getting to know them. It is also fun to learn about a different field. I will be there through August and possibly longer if I do not get a permanent job by then. Speaking of permanent jobs - I decided not to go back to the school this fall, but will look for a more administrative/office job and teach dance on the side. I have applied to the town of Apex for the position of Coordinator of their new Cultural Arts Center. I made it past the first phase. I'll keep you updated on what I hear from them next.

The best part of the summer has been spending extra time with my family. Last weekend I got to stay with my cousins in N. Raleigh for the weekend while their parents were out of town. We had a great time! I've also spent lots of time with Julie and Jo, and enjoyed having Joy, Dan, and Ava at the beach with us.

Well, that is enough of an update for now...more to come....really.
Posted by

Unknown
at 7:56 PM
2 comments: